Transport
Logistical massification at the Béziers site
The transit of goods through a regional logistics hub like Béziers, where different volumes and different products from a variety of geographical locations can be grouped together, results in the optimisation of transportation.
This massification will improve the economic performance of transportation by:
minimising "empty" loads or loads below 100% (on round trips trucks should be as fully loaded as possible)
grouping despatches on one site for delivery by messenger service and thereby optimising daily delivery services
reducing the environmental impact and improving the carbon footprint
Transport planning tailored to your requirements
As a haulage operator, we have the knowledge and networks for all your transport requirements.
The volume of goods we handle means we can offer you the best value rates with our delivery, integrator, freight forwarding, shipping, rail and road partners, both nationally and internationally. We use multiple networks, which allows us to develop synergies in logistics and transport at national and European levels.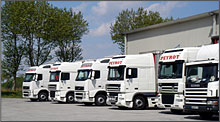 Creation of a transport plan suitable for every client taking into consideration the diversity of activities

Possibility of timetabling regular delivery rounds, in particular for collection at the client's premises

Proximity of the depot to sea, rail and road transport

Groupage for on-site containerisation for shipments by sea, either with our partners or a forwarder of your choice

Integration of messenger delivery services for small consignments using our groupage hubs for daily despatches of boxed wine

Awareness of the role of transport in sustainable development
Peyrot Transportation
The links between EPIGONE and PEYROT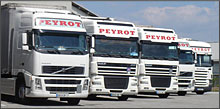 Transportation facilitate partnership and priority with a nationwide transport organisation that is experienced in the distribution of wine on pallets.
With more than 120 vehicles across four locations throughout the country, PEYROT has excellent coverage nationally.
The combined expertise of transport, logistics and storage ensures competitiveness and quality of service.
Visit the website: www.peyrot.fr